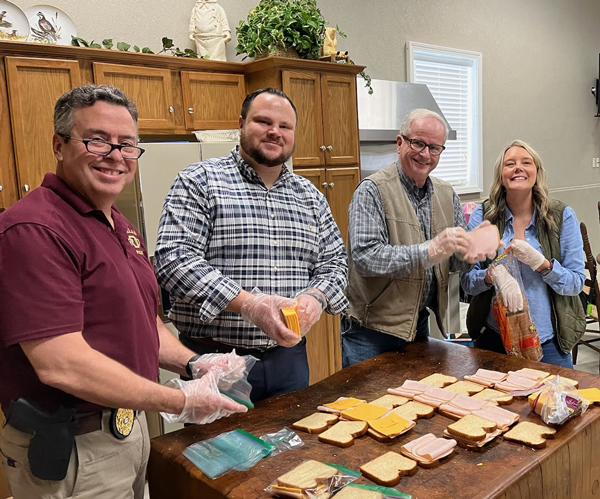 A big thank you to all of the members who participated in the USO event last week. We had an excellent turnout Tuesday afternoon and assembled 400+ bagged lunches! On Wednesday, several members assisted in passing out lunches to troops returning from holiday leave to Fort Gordon or Fort Benning to complete their training. While Rotary's shift ran from 10 – 2, the entire program ran from 6 am to midnight, and all together, approx. 10,000 soldiers came through Hartsfield-Jackson. Thank you to the board for continuing to support such a worthy cause.
The Paulding Rotary proudly works with the famous USO Program to serve troops. Club members gathered to prepare meals for troops in transport to local army bases. Yes, this is the same "USO" that Bob Hope was a part of for so many years. Local club members are happy to participate again with such an effective outreach program, especially one so devoted to our troops as the USO.
Since 1941, the USO has been the nation's leading organization to serve the men and women in the U.S. military, and their families, throughout their time in service. Today's USO adapts to the needs of our service men and women and their families. The USO operates centers at or near military installations across the United States and throughout the world, including in combat zones. USO airport centers offer around-the-clock hospitality for traveling service members and their families. And trademark USO tours bring America and its celebrities to service members who are assigned far from home, to entertain them and convey the support of the nation. All parts of our many specialized programs offer a continuum of support to service members throughout their journey of service. This year OUR TROOPS arrived in Atlanta to board busses for transportation to Ft Benning and Ft Gordon. The project took place outside under the awnings on both the North and South Terminal. Everything was dropped off at either the North or South Terminal and passed out right from there. For many of these young men and women, this will be their main meal for the day.
This year in addition to serving the TROOPS returning to Ft Benning we will also be serving the Troops returning to Ft. Gordon on Wednesday, Jan 4th, 2023. In the previous 15 years, these two Forts have returned on separate days, this year will be different with 10,000 +/- of OUR TROOPS in training returning on the same day. This experience will have been the largest Holiday Block Leave ever at Hartsfield Jackson! Thanks again for the continued support of the USO and OUR TROOPS. GOD BLESS AMERICA!