Paul Harris Sustaining Member | Paul Harris Fellow | Paul Harris Society
MISSION: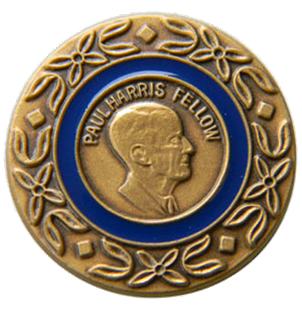 To enable Rotarians to advance world understanding, goodwill and peace through the improvement of health, the support of education, and the alleviation of poverty.
In 1917, the sixth International President of Rotary, Arch Klump, proposed an endowment "for the purpose of dong good in the world" at the first International Rotary Convention in Atlanta, GA. After the death of Rotary's founder Paul Harris in 1947, Rotarians around the world made contributions to the Rotary Foundation. The Foundation later decided to honor Paul Harris by recognizing donors that contribute gifts to the Foundation.
PAUL HARRIS SUSTAINING MEMBER:
Rotary member who contributes $100.00 per year to the Foundation.
PAUL HARRIS FELLOW:
Rotary member who has contributes $1,000.00 to the Foundation.
PAUL HARRIS SOCIETY:
Rotary member who contributes $1,000.00 per year for 10 years.
Each year, the Rotary Foundation funds:
Ambassadorial Scholarships - for study abroad.
Group Study Exchange
Matching Grants – money contributed comes directly back to the district.
Polio Plus – to eradicate polio worldwide.
Health, Hunger and Humanity Grants (93-H) – encourages prevention rather than cure and self-help rather than charity.
Grants for university teachers.